Fluorescent lamps to be phased out in 2023
T5 & T8 fluorescent lamps and compact fluorescent lamps will be phased out from the European market during 2023.
In 2023, T5 and T8 fluorescent lamps and compact fluorescent lamps (CFLs) will be phased out of the European market in accordance with both the Ecodesign and RoHS directives in order to remove the most resource-intensive products from the market. These light sources are still common in many different application areas such as industries, parking garages, schools and public spaces. T8 fluorescent lamps have for some time been listed for phasing out the EU Ecodesign Directive due to their high energy consumption. New is that the RoHS directives from 2023 will tighten the mercury regulation, which means that both fluorescent T5 and T8 tubes and compact fluorescent lamps (CFL) will be phased out during 2023. Today there are significantly more energy-efficient alternatives with LEDs that are free of mercury and has as good or even better function. In addition, LEDs have a longer lifespan, which in the long run lowers both energy and maintenance costs, thus have a smaller CO2 footprint.
A traditional lighting solution can easily be upgraded to LED with our LED retrofit options that directly replace old light sources. Do you have fluorescent CFL, T5 or T8 fluorescent lamps in your system? Contact us and we will help you with a cost and savings calculation with alternative lighting in the form of replacing only the light source or complete luminaire.

What is the Ecodesign Directive?
The Ecodesign Directive sets minimum requirements for the energy performance of products and prohibits the most energy- and resource-intensive products on the EU market. The Ecodesign Directive came into force in 2005. The purpose of the Ecodesign Directive is to set a minimum level for products' energy use during the life cycle, and thus weed out the worst products on the market.
The Ecodesign Directive not only takes into account energy consumption when the product is in use, but also takes into account the entire life cycle and also sets requirements for technical service life, recycling, emissions to the environment and information requirements on hazardous substances.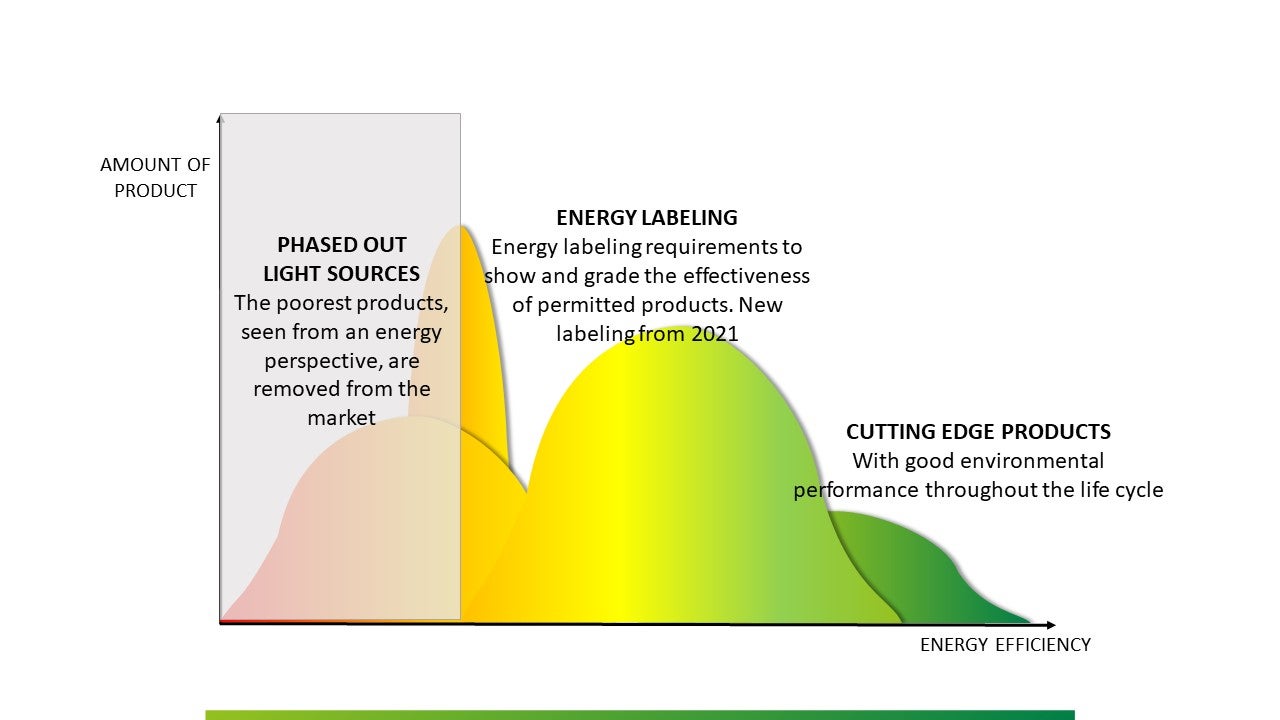 The Ecodesign Directive sets the framework for how requirements are to be developed and what can be regulated. Specific requirements for different products are then set in product regulations. It also regulates when the requirements come into force. A directive must be implemented to become Swedish law in force, while a regulation becomes directly applicable law throughout the EU, and then also in Sweden.
Objectives of the European Commission
The European Commission has calculated that the ecodesign requirements decided so far will save 537 TWh of electricity per year by EU 2020. Together with savings from boilers and water heaters (653 TWh primary energy per year), this means a saving of more than 5%. The EU's goal is to reduce energy use by 20%. For lighting alone, the European Commission expects a saving of 102 TWh annually from 2020, with current ecodesign requirements. The next sub-goal is to achieve 32.5% increased energy efficiency by 2030 and by 2050 the EU will be climate neutral.
What is the RoHS directive?
The RoHS Directive (2011/65 / EU) is an EU directive that places restrictions on the use of hazardous chemicals in all electrical and electronic equipment. This is done to establish a healthier and more sustainable use for people and the environment, but also the possibility of profitable and sustainable recycling of materials from electrical and electronic equipment. The RoHS directive sets limit values ​​for the use of certain hazardous substances, so-called homogeneous materials, in electrical and electronic equipment. However, there are exceptions to how, where and when homogeneous substances still receive these, such as alternatively not being secured, meeting the requirements or they are not technically possible to replace. Electrical and electronic equipment with CE marking is a guarantee that the equipment meets the requirements of the RoHS directive.
New directive means phasing out traditional fluorescent lamps
A homogeneous substance regulated by RoHS is mercury, one of the most dangerous environmental toxins that poses a threat to both our environment and human health. Mercury has, however, as an exception been allowed to be used in limited quantities in fluorescent lamps, but in February 2022 a new act was published ending this exception. With the development of LED light sources, we today have a wide range of reliable and qualitative alternatives that are completely free of mercury. Our LED retrofit light sources act as a direct replacement for fluorescent lamps and compact fluorescent lamps.
From 24 February 2023, the following light sources will be phased out:
• CFL, compact fluorescent tube, life time < 20.000 h
• Circline lamps >10 - <15 mg mercury
From 24 August 2023, the following light sources will be phased out:
• CFL, compact fluorescent tube, life time > 20.000 h
• T5 fluorescent tubes (≤ 3 mg mercury)
• T8 fluorescent tubes (≤ 3,5 mg mercury)
From 23 February 2027, the following light sources will be phased out:
• HPS High pressure sodium lamps
• MH Metal halide lamps
We help you step by step
Do you have old fluorescent light sources in your premises? After 24 August 2023, new production of these will be stopped, but existing lighting installations with fluorescent may be used and stocks sold out. On the other hand, it is a good idea to already now review what future-proof and sustainable lighting alternatives there are. We can help you, step by step, to find a solution that suits your application!
Inventory and evaluation
Together, we go through all the lighting that is available in the premises that are to be upgraded to determine what needs there are. Does everything need to be replaced or are the luminaires in such good condition that the light sources can be replaced with LEDs? Is the lighting also adapted to the room's design and purpose?
Prioritize
In what order should the lighting be replaced? Where there's the greatest energy saving? Fastest repayment period? Or where the need is greatest due to lack of lighting today?
Suggestions and calculations
When the basic work is done and the requirements established, we give you a proposal for a suitable lighting installation adapted to the room. We also make calculations on how much energy, costs and CO2 you can expect to save per year. In addition, our lighting designers can offer visualizations of the suggestions, so that you can get a picture of the end result.
Do you have questions about the phase out or LED? Contact us for more info!