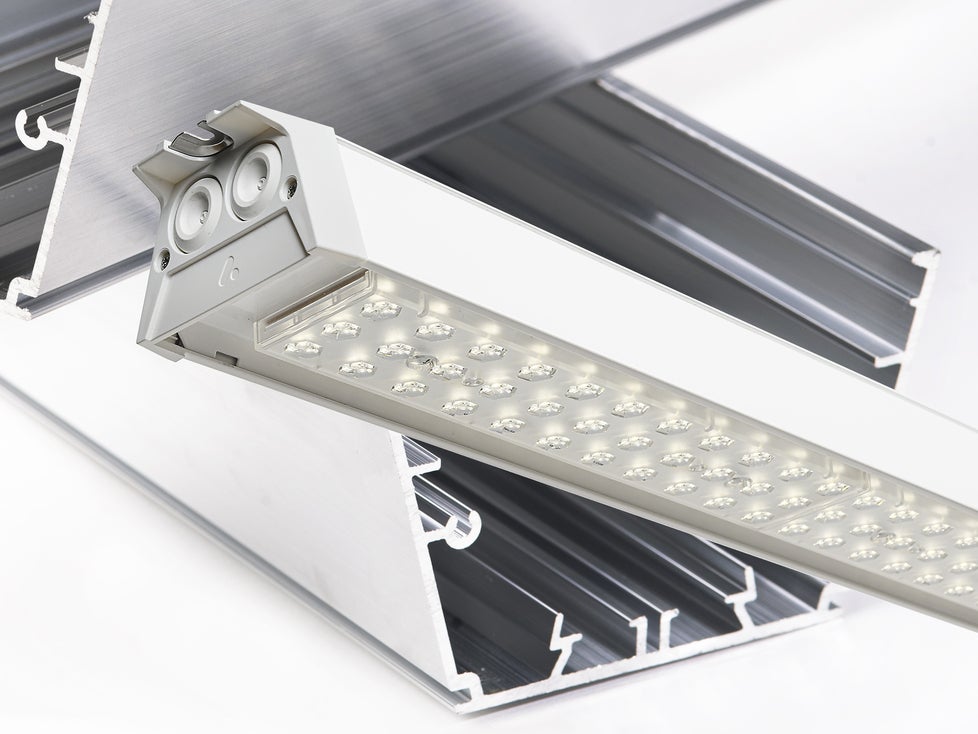 New industry lighting from Sweden
2022 05 25
Aura Light expands its product family for industrial lighting with Helags, a lighting fixture primarily for industry but also for a number of other application areas as it fits in rooms with both high and low ceilings. In collaboration with Hydro, we use low-carbon aluminum that lowers the product's climate footprint. Together with the popular industrial luminaire Sarek, Aura Light now offers a complete range of industrial lighting for the professional market. Helags and Sarek are both designed by our development team in Sweden, where the luminaires are also produced.
Helags is a robust industrial luminaire equipped with high-quality components, designed to last for a long time. The LED module in Helags is replaceable. This follows the new EU directive to be able to easily replace the LED module when it is used up, says product manager Rasmus Andersson.
- The electrical components and LED modules are carefully selected to give the product a long life and in most versions of the luminaire we provide a guarantee of over 100,000 burning hours. I therefore do not think that the customer will see a need to replace the LED strip in the near future, but it is good that the opportunity exists based on a flexibility and sustainability aspect, says Rasmus.
Helags is available in several different versions when it comes to both luminous flux and light distributions, which makes it universal in its area of use. It will primarily be installed in industrial environments, but it is possible to install it also in indoor environments. The luminaire is available in IP-classes IP23 and IP54 and thus also withstands tougher environments with dirt and dust.
Luminaire housing made of low-carbon aluminum for lower climate footprint
In collaboration with Hydro, we have provided the luminaire housing at Helags with Hydro REDUXA, which is one of Hydro's greener aluminum alternatives consisting of primary aluminum produced with renewable energy. Hydro REDUXA offers 4.5 times lower CO2 per kilo of aluminum than the global average, thanks to the use of renewable energy from water, wind and solar.
The choice of materials and components are important in the development process of new products:
- Sustainability is in our DNA, and in the development of a new product, we look at how we can make a difference from a sustainability perspective. Choosing energy-efficient and long-lasting components and materials that have a lower impact on the environment is obvious to us, concludes Rasmus.