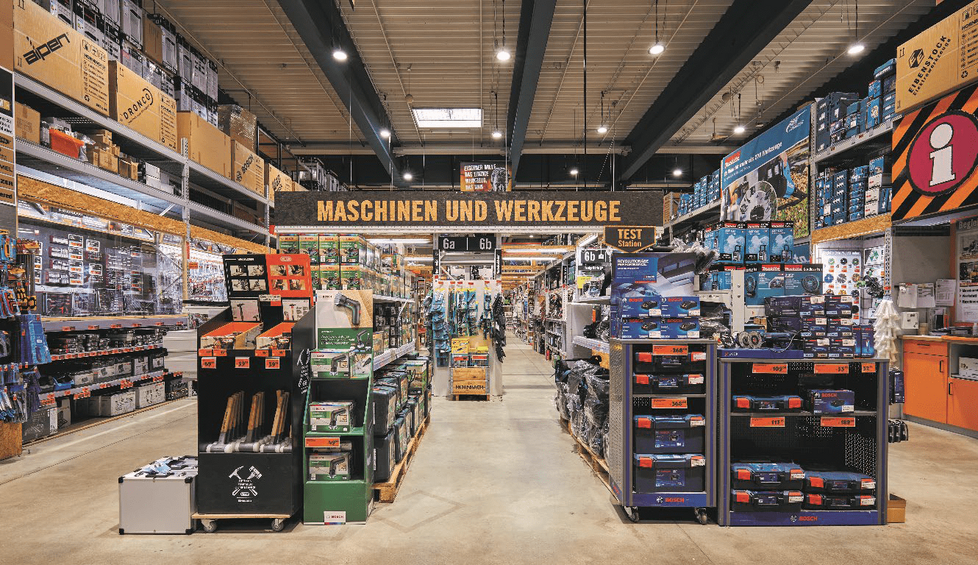 Aura Light equips 125 of Hornbach's facilities with LED lighting
2022 07 07
Together with the Swedish lighting manufacturer, Hornbach Baumarkt AG converts the majority of its DIY- and garden stores in Europe to environmentally friendly LED technology. HORNBACH Baumarkt AG, part of the Hornbach Group, currently operates 169 do-it-yourself stores with garden centers and two specialty stores in nine European countries, including 98 locations in Germany. 125 of these have now been rebuilt and equipped with LED lighting in an extensive project.
The goal was to achieve better light quality with the same number of light points and at the same time reduce energy consumption. The existing luminaires were therefore replaced by Certos LED, a luminaire adapted for high ceiling heights. To illuminate the different corridors and shelves optimally, a 120-watt version with different light scatterings was used. In this way, an even luminous flux without dark zones was achieved.
In addition to excellent light quality, Certos has a low glare effect thanks to the LED lens technology, so that both the shopping experience for customers and the work for employees is more pleasant. In addition to improving lighting, the transition to LED technology means significant energy and cost savings. The efficiency of the lighting solution was further increased by integrating an existing light control system with daylight compensating control. The long service life of the Certos with 100,000 hours also saves maintenance over several years.

"The LED lights have a longer service life and also save a lot of energy", explains Erich Harsch, CEO of Hornbach Baumarkt AG. He puts the annual electricity cost savings at more than four million euros. "Converted, this step also means a significant reduction in our CO2 footprint by several thousand tons of CO2 per year", says Harsch.
Aura Light International AB
For more Informationen:
Caroline Holmgren, Marketing Manager Aura Light International AB
E-mail: caroline.holmgren@auralight.com
Phone: +46 (0)70-266 26 14