Sevede family
Sevede is a modern and slim luminaire serie with endless possibilities for creative lighting. With the latest technology, first-class optics and unique LED card, specially adapted for the luminaire, it is a real premium product. The luminaire is available in 2 lengths as standard: recessed, ceiling mounted or pendent, and in three types of optics: lens with low UGR, opal and microprismatic optics. The unique thing is that you can also create a homogeneous light line in a length that suits your facility. By putting together any number of different lengths, you get a completely unique solution. The system solution is available as special request. Contact your sales person for more information. Well-balanced material choices also makes Sevede a sustainable product.
At a glance
Designed and developed in Sweden
Pendent, recessed or ceiling mounted in different lengths
Lens, opal or microprismatic optics
Customized system luminaire as special request
Available with ActiveAhead-2 or Casambi
Office, corridor, school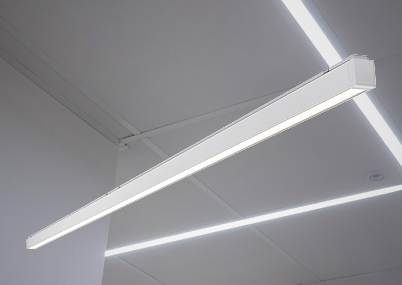 Combine any number of the different lengths and get a unique light line. Available both as pendent and ceiling mounted.
The pendent version has a separate uplight with a ratio of 30% uplight and 70% downlight. The whole upper surface of Sevede ceiling consists of an open channel, which makes the connection easy. No need for exact millimeter tolerance during installation.